I always travel with a few necessities- snacks like Rise Bars, a small bottle of hot sauce, and home made trail mix. Sometimes I will pack a bit more, depending on where I'm going, for how long, and how I'm getting there.
Last week I was headed to Philly for work. I had some veggies in the fridge that needed used up, or steamed and frozen in cubes for smoothies. I opted to make a salad which I placed in single serve containers to take for lunch on days I was working in an office. Here's what I came up with...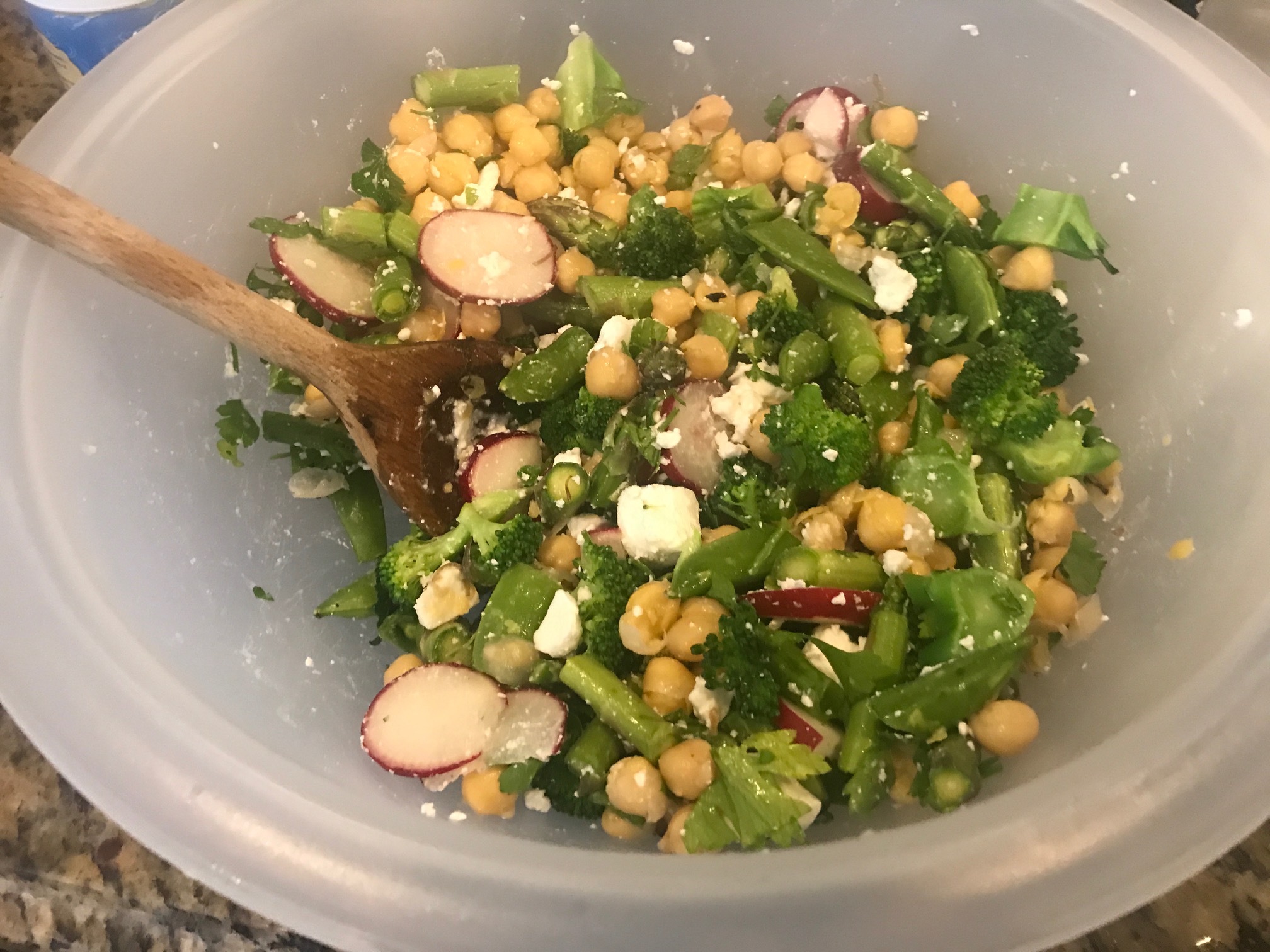 Spring Veggie & Garbanzo Bean Salad
Ingredients:
1 C Dried Garbanzo Beans, soaked & cooked (Or 2 Cans, drained)
2 C Broccoli, chopped & steamed slightly
1 C Snap Peas, chopped into bite size pieces
1 C Asparagus, chopped & steamed slightly
1/2 Bunch Flat Leaf Parsley, chopped
1 C Feta Cheese, crumbled
Dressing: 1/8 C Olive Oil
1/8 C Red Wine Vinegar
1 Tbl Herbes de Provence
1 Tsp Dijon Mustard
Salt & Pepper
Directions:
Combine cooked & cooled garbanzo beans, broccoli, snap peas, asparagus, parsley and crumble feta in a large bowl. Stir to combine.
Mix the dressing ingredients in a measuring cup. You should have about 1/2 cup of dressing for the salad. Top salad with dressing, and stir to coat.
Makes approximately 6 servings.
NOTES:
I always soak my garbanzo beans in water & a Tbl of apple cider vinegar before cooking.

You can add any veggies you like to this salad, this is just what I had on hand, and what was seasonal.

If you don't eat beans, feel free to substitute another protein like chicken or even tuna.

The dressing should be about 1/2 cup of liquid. I prefer a little less oil than "standard" dressings (as published in the recipe), and will often do 50/50 oil to vinegar or even 1/4 oil and 3/4 vinegar, depending on my taste.